projectart is seeking professional artists who are both committed to their craft and passionate about using their talent to teach and inspire children. Our Resident Teaching Artists teach free, high-quality, after-school art classes to children 4-18 at assigned local public libraries. Each 9-month residency begins in September and ends in June. Our Resident Teaching Artists are provided space in their designated libraries to create new artwork and each residency ends with an exhibition showcasing the children's and artists' work. The hiring process begins in mid-June with the release of a Request for Proposals (RFP) to local art and artist networks in the cities where the organization operates.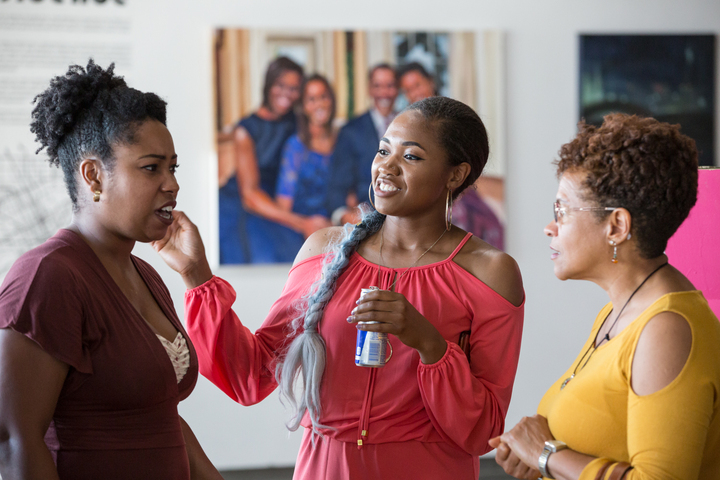 The application requires artists to submit a letter of interest that also specifies the library branch or neighborhood they want to serve and why. Applicants are also asked to provide their artist statement, resume, and a portfolio of five images showcasing their work. After an internal panel identifies the semi-finalists, those submissions are reviewed by our selection jury of art world professionals, a talented group of esteemed curators, museum directors, and creative visionaries.
In early August, after all finalists have undergone two interviews, the final cohort of Resident Teaching Artists is selected. These artists are chosen based on their application materials, input from the jury, and the interviews. Once the official cohort is confirmed, projectart proceeds with an official onboarding to welcome the Resident Teaching Artists and help them prepare for their curriculum and classes. projectart also completes a background check on every artist.
This rigorous hiring process ensures the quality and caliber of our programming. It also inspires a collective that is passionate about the organization and its goals and enthusiastic about the opportunity to positively impact the children, families and communities we serve. 
Our talented resident teaching artists continue to develop their craft, build their reputations and make us proud.
India Solomon
Stephanie Onwenu
Talon Adams
Ben Haddix
Corinne MacInnes
Ciondra Brown
Habacuc Samuel
Bessiake
Danielle Owensby
Ashley Hatcher
Maya Davis
Sicily McRaven
Nick Pizana
Corinne MacInnes
Ciondra Brown
Anna van Schaap
Mariam Ezzat
Rachel Elise Thomas
Ruth Koelewyn
Maya Davis
Sicily McRaven
Nick Pizana
Alex Youkanna
Natalia Sarrazin
John Woodward
Noura Ballout
Maya Davis
Sicily McRaven
Angela Eastman
Alphonso Cox
Candace Dove
M. Pofahl
Fatima Sow
Cyrah Dardas
Nick Pizana
Michelle Haapala
Jane Orr
Megan White
Emery Jones
Ben Haddix
Brian Nickson
Elise Martin
Alana Barrett
Sophia Wong
Nerea Arce Masnu
Silvana Soriano
Halley Bohm
Nicole Salgar
Pangea Kali Virga
Santiague Depres
Noah Cribb
Miranda de Gasperi
Kerry Phillips
Laura Prada
Nicole Combeau
Nicole Salgar
Pangea Kali Virga
Tori Scott
Alexander Zastera
Aurora Molina
Susan Feliciano
Sonia Hernandez
Laura Prada
Mateo Serna Zapata
Aurora Molina
Sonia Baez Hernandez
Susan Feliciano
Almaz Wilson
Lucia Del Sanchez
Mateo Nova
Carolina Cueva
Chire Regans
Melanie Oliva
Jahaira Rios Galvez
Najja Moon
Natalya Kochack
Alexander Zastera
Neil Brideau
Anthony Anaya
Rosa Naday Garmendia
Alex Nunez
Blair Butterfield
Rosemarie Romero
Morel Doucet
Stuart Sheldon
Maria Theresa Barbist
Michael Sheng
Catie Dillon
Noga Cohen
Noormah Jamal
Michael Dispensa
Rebecca Jean-Philippe
Kianna Franklin
Chemin Hsaio
Samhita Kamisetty
Roy Secord
Richela Morgan
Aileen Bassis
Carlos Torres Machado
Amir Hariri
Kate Butler
Noah Benus
Tyla Vidal
Arantxa Rodriguez
Chemin Hsaio
Nari Kim
Vanesa Alvarez Diaz
Eva Redamonti
Alexander Chapparo
Ali Spechler
Tyla Vidal
David Alicea
Arantxa Rodriguez
Savanah Pennell
Chessica Rose
Caryn Coyle
Muse Dodd
Nicholas Forke
Denae Howard
Chemin Hsaio
Chessica Rose
Fany De La Chica
David Siever
Sophia Chizuko
Mikaela Kilfoyle
Meagan Meehan
Ciara Ruddock
Solaris Sapiente
Karl Lorenzen
Courtney Surmanek
Crys Yin
Rhonda Weppler
Caitlin McDonagh
Izak Iskraki
Anthony Heinz May
Elia Khalaf
Nari Kim
Ilaria Ortensi
Alice Yang
Meg Petrillo
Jourdain Lee
Pedro Fillipe Vintimilla
Samantha Cornwell-Crabtree
Leah Danze
Mariella Suarez
Ashley Resurreccion
Sandy Kessler Kaminski
Tiara Burtin
Suzanne Werder
Lauren Bailey
Akin Lowman
Conor Coleman 
Susan Swarthout
Nathan Bussard
Richena Brockinson
Vanessa Kettering
Angela Velez
Kirsten Ervin
Susan Swarthout
Lilith Bailey-Kroll
Kelly Day
Susan Swarthout
Anna Nelson
Suzanne Werder
Jamie Earnest
Dalia Shevin
Lindsey Whittle
Dutana Dago
Corinne MacInnes
Ciondra Brown
Habacuc Samuel
Bessiake
Danielle Owensby
Ashley Hatcher
Ruth Koelewyn
Rachel Elise Thomas
Ciondra Brown
Corinne MacInnes
Anna van Schaap
Mariam Ezzat
Sicily McRaven
Alex Youkanna
Maya Davis
Nick Pizana
Nicole Salgar
Pangea Kali Virga
Santiague Depres
Noah Cribb
Miranda de Gasperi
Ingrid Mathurin
Labkhand Olfatmanesh
Luciano Pimienta
Michiko Murakami
Katy Krantz
Rives Granade
Ayan Ortega
Ayan Ortega
Kianna Franklin
Chemin Hsaio
Oluwaseyi Adeleke
Veronica Casado Hernan
Al-Qawi Nanavati
B"Rael Ali Thunder
Jimmy Riordan
Gabriela Ibarra
Chiara Galimberti
Peregrine Bermas
Zakkiyyah Najeebah
William Camargo
Ricardo Gonzalez
Al-Qawi Nanavati
B"Rael Ali Thunder
Natalie Cooper
Jackie Sumell
Corinne MacInnes
Ciondra Brown
Habacuc Samuel
Bessiake
Danielle Owensby
Ashley Hatcher
Ruth Koelewyn
Rachel Elise Thomas
Ciondra Brown
Corinne MacInnes
Anna van Schaap
Mariam Ezzat
Minoosh Zomorodinia
Rebecca Herman
Nicole Salgar
Pangea Kali Virga
Santiague Depres
Noah Cribb
Miranda de Gasperi
Nicole Combeau
Pangea kali Virga
Nicole Salgar
Kerry Phillips
Laura Prada
Tori Scott
Veronica Wiggins
Sade Simmons